Oranges and Lemons Slot Review
Oranges and lemons are fruits that are both good for one's health because of the vitamin C that it gives to us. Vitamin C is not the only thing they can give. Oranges and lemons can also fill your purse with a lot of cash! Another exciting game from Microgaming with a unique theme of Oranges and Lemons is now making its way in every casino. Oranges and Lemons is a classical 3 reel pokie game with one active payline and with vivid, colorful graphics and very nice sounds effect for entertainment.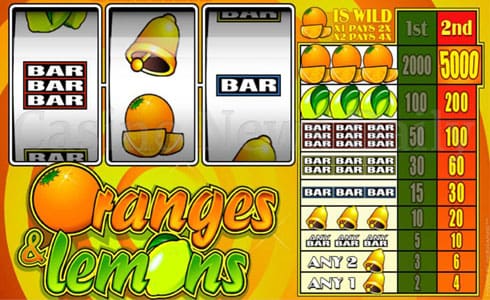 Bet and Win
Oranges and Lemons pokie slot machine can be played with the maximum bet of 2 coins. The coin values ranges from 0.25, 0.50, 1.00, 2.00 and 5.00. The coin values are adjustable depending on the players need and desire. The player can have the chance of winning the jackpot price if they bet with the maximum coin. The highest price is 5000 or equivalent to $25,000. This is achievable if you will have the coin value adjusted to 5.00 and bet with 2 coins per spin. The Oranges and Lemons have an average price at stake and have a high frequency of completing a combination. New players are advice to try this slot machine for entertainment and of course profit gain.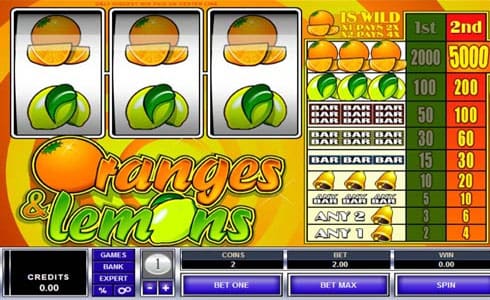 Symbols of the fruits
Oranges and Lemons pokie game uses the Bell symbol, the legendary bars, lemon fruit and Orange fruit. The orange symbol is the most important symbol in the game. To get the maximum jackpot you need three orange symbols on the payline. The orange symbol also is a wild symbols that replaces any symbols to complete any of the 9 winning combinations. It is also a multiplier that will give you extra profit if one or two orange symbols appear in the payline. One orange symbol will multiply your payout by 2 times and if you get 2 orange symbols, your payout is multiplied by 4 times.
Juicy Expert
Players can also play Oranges and Lemons in Expert mode and set the game to auto play. The auto play will allow the players to set the number of spins and when to stop the spins. In auto play players can just sit back, drink, enjoy the night with other players and watch their credits grows.
Gameplay
Oranges and Lemons pokie game is very fun and exciting to play. With the high frequency rate of forming a winning combination you will not go home empty pocket.
Payout Table
You can see the payout table below for this slot machine.
| | | |
| --- | --- | --- |
| Combination | Coin 1 | Coin 2 |
| Three Oranges Symbol | 2,000 | 5,000 |
| Three Lemons Symbol | 100 | 200 |
| Three 3-Bar Symbols | 50 | 100 |
| Three 2-Bar Symbols | 30 | 60 |
| Three 1-Bar Symbols | 15 | 30 |
| Three Bell Symbols | 10 | 20 |
| Any 3 Bar Symbols | 5 | 10 |
| Two Bell Symbols | 3 | 6 |
| One Bell Symbol | 2 | 4 |

| | |
| --- | --- |
| Software | Microgaming |
| Volatility | Medium Volatility |
| Paylines | 1 |
| Reels | 3 |
| Min Bet | 0.05 |
| Max Bet | 5 |
| Free Spins/ Multiplier | Yes |
| Jackpot | 200 |
| RTP | 96.% |