Agent Jane Blonde Slot Game Review
Microgaming always holds hands with super heroes to amaze its gambling fans. This time the extraordinary spy girl magnetizes slot game lovers. Yes, we are speaking about the girl named Janey Brown who is popular by the name Jane Blonde. However, players hardly see the character of Janey Brown in this video slot game named Agent Jane Blond. This nine-line slot game does deliver amazing chances for us to win the prizes in multiple ways. If luck drives you to the winning seat, 10000 coins will reach your wallet. You can bet from $0.45 to $45 to gain maximum prize worth $10,000 to $45,000. Let us check through the details of this game, its specialties, and weakness.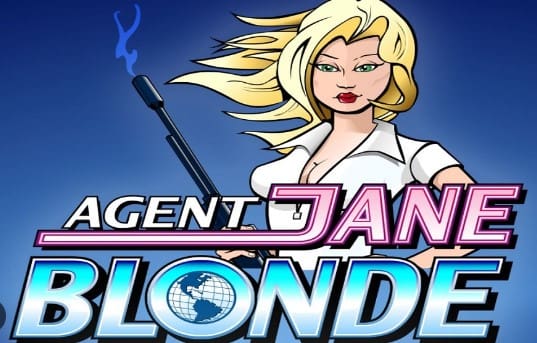 Agent Jane Blonde slot game structure
Like all their popular games, the gaming structure of Agent Jane Blonde is also easy to understand. This is a five-reel slot game, which possess an attractive background. The slot symbols are dragged from Jane blonde's saga. They are:
X – Ray glass
Bomb gum (exploding chewing gum)
Game logo
The GPS
Martini glass
Lipstick
Gun belt
Jane Blonde super picture
Jane blonde mission pictures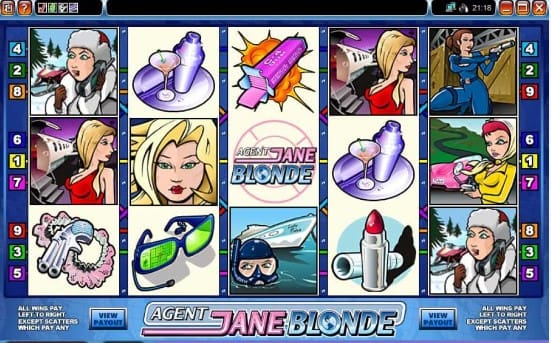 You can earn the minimum prize by fetching at least three similar symbols that belong to the above category. In order to gain the top prize, you have to fetch five Jane Blonde Super pictures, which is the game wild card.
The Jane Blonde Super picture can turn into any of the symbols in the above list. The Jane Blonde logoo is the scatter card, which enables free spins once you manage to get one wild card along with a scatter card in the same line.
Prize structure
You can start winning by matching two X ray Spectacle symbols or two wild cards. The other symbol requires at least three similar symbols to fetch you some prizes. The least attractive prize structure belongs to the X ray spectacles, as three of the similar symbols delivers only a $100 payout whereas others pays a minimum of $125 for the same.
The presence of a wild card in the winning line doubles the prize money and from three wild cards, you can gain bonus spins. There is no doubt that $150,000 is an attractive prize money, which can be gained by placing a maximum bet that equals to $45 a coin. However, the main weakness of this game in my view is its maximum bet fees that actually can deliver a shock to the player if they fail to acquire a minimum win. Nevertheless, it is the game of luck and a win can hug us anytime, which in turn can change our one and only life forever. The majority of the players starts from the lowest betting option and graded wagers better when they start winning. The same slot game strategy applies for Agent Jane blonde also, start slow, and earn big. There is no doubt that this suspense thriller game can present you amazing experience for hours.
Game background
More than a hundred online casinos around the globe facilitates Agent Jane Blonde casino slot game and surveys states that around forty thousand people play this game in an hour (including the free versions). There are more than a million links appear in major search engine result pages, on inputting the keyword 'Agent Jane Blonde slot game'. Major casino poll sites receive hundreds of responses about this popular spylet game in a day. Most of the feedbacks are worried about the theme song though they loved the 007-signature music that echoes during a win and critical stages. Nevertheless, the Agent Blonde game is considered as the best Microgaming casino marvel in the recent times.
The next version of the Agent Jayne Blonde game may feature a better theme song and graphics with additional symbols that could multiply the winning chances by many folds. There is no doubt that the current version is a master craft and has rich features that engage players stick to the game for a long time. When considering the tradition of Microgaming we can expect for more miracles that might be structuring under the roof of gaming expertise. Till then let us explore the mysteries of the great game 'Agent Jayne Blonde'.


| | |
| --- | --- |
| Software | Microgaming |
| Volatility | Medium Volatility |
| Paylines | 9 |
| Reels | 5 |
| Min Bet | 0.01 |
| Max Bet | 2 |
| Free Spins/ Multiplier | Yes |
| Jackpot | 750 |
| RTP | 96.1% |