Surveys state that slot games are acquiring more acceptance than any other casino games. There is no doubt that slot games possess the highest number of casino game variants. Cashsplash pokies reviewEvery month, you will see at least five new casino slot games in the online casino market. However, we can even see numerous slot games that failed to stick in the market due to its complicated gaming structure and unfavorable winning options. If a slot machine game has to remain in the platform for a long time, it must contain the necessary fragments that could motivate a player's mind. Cahsplash is one of those amazing slot machine games that successfully acquired a strong place in the player's mind.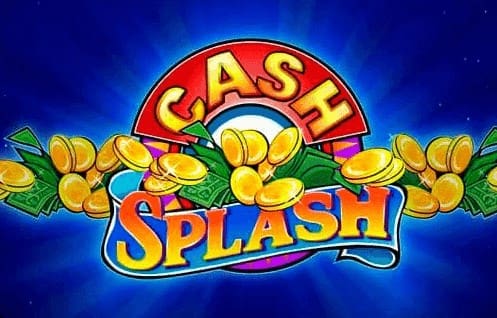 More About Cashsplash
Cash splash is a progressive game that has two popular variants. The five-reel game is the latest cash splash thriller and the three-reel game is entertaining the game lovers from a long time. Like all Microgaming slot machine games, cash splash is enriched with magnetizing feature that will even make a first time player its fan. Let us check the main positive and negative features of this popular cash splash game.
The three reel game
The three-reel cash splash game is one of the best slot machine games designed by Microgaming. You can bet up to three dollars whereas the minimum bet is one dollar. If your luck fetch you the icon number seven in a raw, your bet would increase up to one hundred and fifty times!
Now let us check the three reel game symbols and their winning combinations,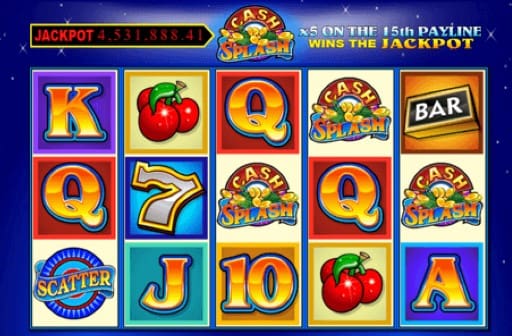 The wild card
As we all know, the wild card can transform into any symbol of a slot machine game. However, there is a condition for this transformation; you have to fetch at least two similar symbols in a row along with the wild card in a single spin. In the three-reel cash splash slot game, the cash splash logo is the wild card. If you manage to complete the winning combination with a wild card, your winning amount doubles with amazing background music. If this is your lucky day, then nothing can stop you from fetching two wildcards to complete the combination, multiplying your winning amount by four.
As a cash splash is a progressive jackpot, the highest prize amount will grow until a player wins the game. However, in order to gain the progressive prize, you have to play the maximum bet of three coins. In that case, gaining three wild cards in a row will bring you the entire stagnating prize amount into your wallet.
Remaining symbols
Seven symbol
Bar symbol
Cherry symbol
Rocks
Part of enemies
When focusing on the negative side, the graphics are not advanced and background music is not well rich. However, all the negative issues neutralizes under the waves of thrills and suspense generated by this game.
The five reel game
The cash splash five-reel game is a progressive video game, with more winning options than the three reel variant. The rules remain the same as the jackpot amount will keep on increasing until a lucky player manages to fill the raw with wild cards. The graphics are clearer and the music got a rejuvenation, which delivers an amazing gaming ambience.
The difference
You have the chance to multiply your winning amount up to 250 times in the five-reel game. Moreover, you have multiple winning options and the five wild card combinations can fetch you six thousand coins. The new symbols include,
Ace
Blue-scatter
Cherries
Jack
King
Queen
Money
Ten
Seven
Cash splash logo
Single Bar
We can see numerous new symbols that improve the winning chances of the player. However, we can also see forum comments that support three-reel cash splash game for its winning probability. Nevertheless, surveys state that cash splash five-reel game has acquired more acceptance than three-reel game variant when comparing the first quarter hits.
Conclusion
There is no doubt that five reel game variant has better features than the three reel variant as it is equipped with bonus scatter symbol, three types of multipliers and you can bet on a fixed coin price (twenty cents). You can improve the prize money by selecting maximum pay lines you can afford.

| | |
| --- | --- |
| Software | Games Global |
| Volatility | Medium Volatility |
| Paylines | 1 |
| Reels | 3 |
| Min Bet | 1 |
| Max Bet | 1 |
| Free Spins/ Multiplier | Yes |
| Jackpot | 300 |
| RTP | 91.51% |